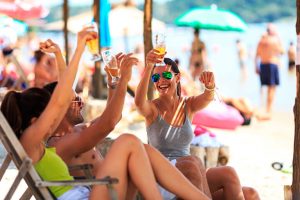 There's nothing we like to do more than finding a spot on a terrace to share a drink and something to eat in good company. If it's something we enjoy in our own town, on holiday in a new town it feels twice as good. If you are reading this article it's because you have already booked your holiday in Benidorm or are thinking of doing so, maybe looking for terraces, bars or restaurants that meet your expectations.
Well you've found the best place for it, , the town of skyscrapers has a great selection prepared to satisfy all tastes and meet your needs in each area. Do you need recommendations for bars in Benidorm? Do you want to know about some of the best terraces in Benidorm? Are you looking for restaurants in Benidorm? Keep reading!
Eating on the Levante Beach Benidorm
The Levante beach seafront is one of the busiest areas when the sun is up high and also when it goes down.
On an evening, the discos that are on the seafront, open their terraces and you can enjoy a refreshing drink whilst overlooking the Mediterranean sea. If you are looking for a 'chillout' bar and quiet environment, we would recommend Ku Lounge Café. If you are looking for a more lively atmosphere and live music, the Heart Break Benidorm.
To eat, our recommendations are the restaurant's Son de Mar and La Bahía.
Eat around the Castle area of Benidorm
One of the most attractive corners of Benidorm is the area of ' ​​El Castillo', also called the Mediterranean Balcony. The essence of Mediterranean coastal town can be felt more here than from any other point in the town. Sitting on a terrace in this place is one of the most pleasant experiences, where you can listen to the sea and feel the cool sea breeze whilst contemplating the Benidorm skyline, both Levante and Poniente.
In this area you will find there are not many bars, but our favorite, to have a drink on the terrace is, especially for the international audience, Aloha Cocktails. To sit down to eat, our recommendation is the Son de Mar Restaurant, with spectacular views of Levante . On the narrow streets that go up to the Castle you can find many other places to eat, like UPTown or the Bar Dulcinea, very popular with the Benidorm locals because of its low prices. For a late drink we recommend you, without a doubt, go to 'El Callejón de los Gatos' (Cats Alley) on Friday or Saturday night and enjoy the different pubs
Where to eat in La Cala of Benidorm and La Cala of Finestrat
The Cala of Benidorm is one of the quietest areas of the town. For this reason a lot of the Benidorm locals go there to enjoy long days at the beach. As well as the beach many people visit to enjoy the good restaurants that the area has to offer. The most popular are Barranco Playa, Va Bene Pizzeria, Con Brasa, Vimi and the Delfin restaurant. They are all close together so why not check out the menus and decide what you fancy when you get there. If you just want a drink, the Portus Massai coffee shop.
The Cala of finestrat seafront has plenty of little bars where you can sit to either eat or drink like 'Peter's' or 'El Arenal' But we would recommend Casa Modesto, which is actually on the beach
Eating out in the old town
In Benidorm old town, the more you walk the more options you are going to find. . El Paseo de la Carretera, la calle Alameda y Martínez Alejos and the streets that lead from them are where you can find most atmosphere. If you want an authentic gastronomical experience you should try the Basque Country area, to taste an infinite selection of tapas and pinchos. Another great place with homemade food is La Picaeta, If you fancy pizza try the L'originale.