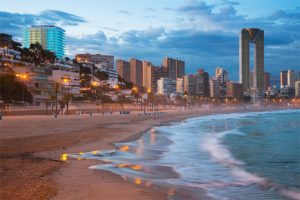 We have already mentioned the Rincon de Loix, well at the opposite end of Benidorm you can find one of the quieter, more relaxed family neighborhoods of the town. We're talking about La Cala. Its long spacious beaches, peaceful streets and its location, relatively out of the center, have made this area a favorite for the national Spanish tourists and for those who travel to Benidorm on a family holiday.
Why should you visit La Cala on your Benidorm holiday? Keep reading!
Where abouts in Benidorm is it?
La Cala is located on the Poniente side of Benidorm. Naming the boarders of the neighborhood is a complicated task, we could say it begins on 'Papa Juan Pablo II Avenue' or the 'Murtal Avenue' and ends at the borders of Villajosa and Finestrat. The busiest avenues for visitors and locals are Vicente Lllorca Alós Avenue which runs along Poniente beach and the Marina Baixa Avenue where you can find Finestrat towns only beach
What to see in La Cala Benidorm
Without a doubt the main attraction of La Cala is its beaches. A walk along the Poniente beach enjoying the sea views and a peaceful walk. Along the way there are plenty of options where you can stop to recharge , have a bite to eat, a drink or some afternoon tea.
Going up to the top of the 'Tossal' La Cala is favorite activity in this area. By car, walking or by bike, you can reach the top and contemplate some amazing panoramic views of Benidorm and surrounding areas from the Poniente side.
Although this beach officially belongs to Finestrat, we will include this small but lovely bay as an attraction of the area due to its proximity. It is adjacent to Marina Baixa Avenue and is perfect for a relaxing walk and to enjoy all the area has to offer.
As with the Beach mentioned above, the shopping center belongs to the town of Finestrat, but from La Cala you can walk or go by car in a few minutes. It's the ideal option for shopping or spending an entertaining afternoon on the top floor where you can find many leisure and catering services.
Where to eat in La Cala
We feel we must highlight some restaurants in this area as it's an area that Benidorm locals love for its gastronomical offer. So… here's a couple of recommendations.
If you are looking for somewhere to enjoy a good paella or savor seafood or fish, we would recommend 'Casa Modesto' right on the La Cala Finestrat Beach or on the Poniente beach 'El Barranco'. As well as good food they offer wonderful views. If on the other hand you prefer meat, we would recommend you try 'Conbrassa'. Or if you fancy an Italian, then don't hesitate to try 'Va Bene'.
How to get to La Cala
To get to La Cala from the center of Benidorm we would recommend you walk along the Poniente beach. By bike it is equally pleasant. If you prefer by bus the main bus lines are number 2, 3, 8 and 30.