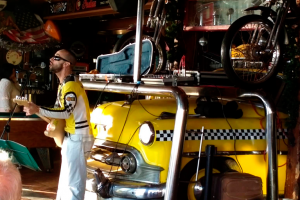 Benidorm is a town with lots to do every day. The city has so many options for food, culture, nightlife and entertainment you can easily fill the days, evenings and, of course, the nights with events, parties, dates and, in short, fill them with life. Among the countless plans that can be made, we would like to highlight our favorite corners, places, shops and locals where we have had the best experiences. Today we would like to start with a bar that, if you come on holiday to Benidorm, is a must: the Heart Break.
What's it all about?
Heart Break is a bar, pub and nightclub that leaves everyone impressed by its decor in the best American style and its daily rock music concerts. Guitars hanging from the walls, stools that are shaped as bottle caps, a taxi that looks like its burst through one of the walls … just looking at the decoration is entertainment itself.
Where is it?
It's location is perfect, it couldn't be any better, overlooking the Levante beach of Benidorm, on the Levante promenade. Located on Avinguda Alcoi, 11.
What type of music can you enjoy there?
If there's something that highlights the Heart Break it would be its daily concerts throughout 365 days of the year. As for the music, listen to the the greatest international rock and pop Rock hits. One of the leading singers is Pablo Boom, famous for his "Benidormication" song.
When to visit?
Any time is a good time to visit. The rock concerts are usually at 16:00 and 22:00. In the afternoon you can enjoy a refreshing drink, the sea views and the music. And at night, especially on the weekends, get out and party and live Benidorm to the full.