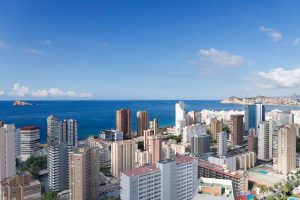 Our favourite time of the year started a few weeks ago. A time to get lost on the streets of Benidorm mixing with a variety of nationalities and cultures. When the days are longer and our desire to enjoy them increases. When the weather and temperatures make us feel the need to put on our swimsuits and race to the beach and have a refreshing dip in the sea. A time when, in short, every corner of Benidorm is loaded with a great atmosphere and good vibes. And what role do we play in all of this? By inviting you to enjoy it all with the best conditions. Do you still not know about us?
Holiday rental in Benidorm
The history of Beninter begins in 1988 as a travel agency. We evolved as we detected new needs on the market and, in this way, we specialized in receiving national and international tourists paying special attention to our management and marketing service of holiday apartments in Benidorm.
The arrival of the Internet offered us the opportunity to go one step further. And so we did developing our own website and software through which we could start offering our accommodations in Benidorm. We became one of the few companies in Benidorm that offered a secure online booking service.
We moved, we kept growing, listening to our customers and learning. Which brings us to today, still maintaining the same enthusiasm as the first day, we have the knowledge and skills to ensure an enjoyable holiday rental in Benidorm with an excellent experience.
Benidorm apartments
We select all our apartments, mainly assessing their location. All our holiday rental options for apartments in Benidorm are located in the Levante area. This means that all of them are close to the two main arteries of the town, Avenida Europa and Avenida Mediterráneo. Also, there are only 500 meters separating our furthest apartment from the Levante Beach. Some of them are even closer and a 5-minute walk is all that separates you from the pleasure of the sea.
We want you to feel at home during your stay in all of our holiday apartments in Benidorm. So we have thought it through to the last detail in their equipment so that we can offer you as many home comforts and facilities as possible. And we have not only thought about the interior of the apartments, also outside. In each of our apartments in Benidorm you can enjoy outdoor areas: gardens, swimming pools, tennis or paddle courts, playgrounds …
At Beninter we put all our dedication and effort into living up to your expectations and making your holidays in Benidorm a success. Why not come and meet us?