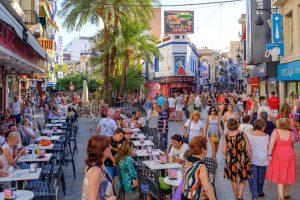 Walking through the Benidorm streets one quickly realizes something that we love: the town is visited by, not only people of multiple nationalities, but also by people of all ages. So it is. Benidorm captivates children, teenagers, adults and pensioners. All publics find in our beloved town just what they need for an unforgettable holiday. Perhaps it is the tranquillity of the Mediterranean, perhaps its great leisure offers, perhaps its nightlife. Or maybe it's all of this put together.
Are you going to spend your next holiday in Benidorm? Are you considering it? Keep reading and discover what the town has to offer for each age group.
Benidorm with children
Children are for sure the audience that has the most fun in Benidorm. There are many reasons for us to think this way. They will have fun on the beach with the many attractions, nets and goalposts that you can find along them. They will enjoy taking walks through the historic centre with its street performers and attractions. If you decide to spend a family day at one of the different amusement or animal parks that the town has to offer they will be amazed. And if you choose to stay in one of our apartments in Benidorm, they will have fun, even without going out, thanks to the playgrounds and communal areas with which they are all equipped.
Do you want more ideas on what to do in Benidorm with children? We propose more plans in this blog post.
Benidorm for young people
Benidorm transforms at night. Especially in the summer, Christmas, Easter and, the holiday season in general. The streets are full, many bars are transformed into pubs and the night stretches out until the first rays of sun appear. The nightlife in Benidorm is the main demand for thousands of young people who visit the town every year. But is there only an atmosphere at night? The truth is no. The pubs that open their doors in the afternoons are becoming more and more popular, especially at the weekend (Sunday being the most preferred), and some even open mornings. Especially on summer days, when it's easy to find places to have a drink while listening to music at any time of the day.
To see more information about the areas to go out in Benidorm, you can check this article on our blog.
Benidorm also attracts young people thanks to the amount of concerts and festivals that it hosts. Artists of different genres come to the town throughout the year becoming one of the great interests for this audience group. The most famous are, without a doubt, the Reggaeton Beach Festival, the Low Festival and the Iberia Festival (the first two in summer and the third in October).
Benidorm for adults
Whether you travel to Benidorm with your family, as a couple, with friends or on your own, all adults will find a place to spend pleasant days in this town. Benidorm brings together sea and mountains, which means beaches and routes to discover and where you can find peace and relaxation that many of us are looking for. It offers exquisite restaurants and bars where you can taste an authentic Alicante paella, fish and seafood from the area and traditional dishes from the region. The cultural offer is not far behind with theatres, exhibitions, dance recitals or classical music concerts. The options multiply in high season.
Other events that we don't want to forget are, of course, the many regional festivals held in Benidorm. Starting with the Benidorm Fiestas and followed by the Fallas, San Juan, the Virgen del Carmen, San Isidro, San Antón, San Jaime and a long etcetera. Benidorm allows you to get a little closer to discover its history.
Benidorm for the retired
And, without a doubt, the town also raises passions among pensioners. Thanks to the offer of activities for pensioners in Benidorm, throughout the year there are many visitors who come to see us.
Every day, excursions are organized from Benidorm, such as going to see the Benidorm island or spending a day discovering a surrounding village, such as Guadalest, or a natural beauty spot like the Fuentes del Algar. In addition, in Benidorm the older public has its own social area. It's located on the Levante beach, further along from the main nightclubs reaching on to the Rincon de Loix.
Have we convinced you that a holiday in Benidorm is perfect for anyone?