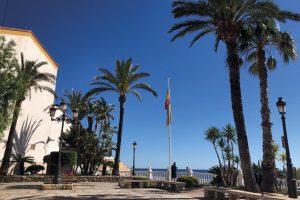 Last Monday was a day that many of us weren't looking forward to. And even less so knowing what it meant. On Monday the summer officially ended. But here we have enjoyed it so much! We couldn't have asked for better temperatures, the parties haven't ceased and the plans neither, we have made the most of the Benidorm beaches. But do you know what's best? That the end of summer in Benidorm does not mean giving all of this up. What's awaiting you in this corner of the world during the next months?
Enjoy different plans thanks to the milder temperatures
If there's one thing we can give thanks for, it's when the temperatures come down and they allow us to enjoy certain plans even more.
· Animal and Theme parks
Spending a day in Terra Mítica Benidorm or visiting to discover the animal species in Mundomar or Terra Natura, are more than recommended plans for these dates. Even more so considering that in October the three parks prepare and change their image to show their most terrifying side. The decorations of the three and their activity plans change in honour of Halloween. A little bit more fun!
· Take long walks and discover Benidorm in the best way: on foot!
Another appealing plan with milder temperatures is to hit the streets and discover the town in which we find ourselves. It's more bearable to have a good time taking a walk and stopping at the most symbolic places.
For a few months now, however, it's not possible to access one of the most beautiful and special places in Benidorm: El Castillo. The reason for this is that there is an archaeological intervention to recover the walls and towers of the old castle. The proposal was made to be able to conserve all of the remains found so that residents and visitors can enjoy them and get to know a very important part of the history of Benidorm. Even though the most beautiful area of ​​El Castillo cannot be visited, the views from it can still be appreciated from many other parts. So, although a part is under construction, we would still encourage you to go up to the Castle area.
The beaches of Benidorm are not only to be enjoyed in summer
Did you read that right? Although temperatures begin to fall in autumn, the sun continues to shine meaning the beaches continue to be visited and enjoyed. Sunbathing, spend some pleasant moments, play in its many activity areas and, for the most daring, take a dip, there are still plans that you can enjoy even having finished the summer in Benidorm.
Apartments in Benidorm, holidays 365 days a year
Staying in one of Beninter's apartments in Benidorm is another way to enjoy your holiday even if the summer is over. You can rest and disconnect going out to the gardens and outdoor areas that all of the buildings have to offer, live in a new home for a few days overlooking the Mediterranean and, in short, get to know everything this beautiful and active town has to offer you, with comfort and the tranquillity that your own home would offer you.
What do you say, are you coming to Benidorm!