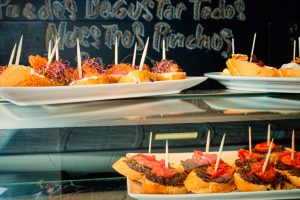 In this second installment of our "Discover" section, we would like to recommend an area where you can treat yourself during your holidays in Benidorm, and not in a way that you would expect in a seaside town. We are not talking about the many beach bars where you can savor good fish, seafood or the traditional Valencian paella. We'll save that for next time.
Today we are talking about the old town, in an area of ​​small, narrow and cobbled streets where at anytime of the day there is a great atmosphere. We are talking about the 'Basques area' also known by some as 'Tapas Alley'.
Keep reading!
What is Tapas Alley
The typical Basque region tapas bar area 'Tapas Alley' is the perfect demonstration that in Benidorm you can also go for tapas, pinchos and wines as if you were in northern Spain. It's made up of a few streets in the historical center of the town where there are many taverns and bars offering food in the form of tapas and pinchos where you can eat, dine or have a snack at a very affordable price.
This area is loved by locals and tourists not only for the food but for its atmosphere that can be enjoyed at any time of the day. The bars are open onto the streets and their terraces merge creating a very friendly atmosphere and, on the most festive days, such as Fridays, Saturdays and Christmas, many of the locals turn up the volume of their music with excitement. In fact, if you spend Christmas in Benidorm, you cannot miss the 24th and 31st December in Tapas alley where all the people of Benidorm celebrate from midday onwards.
Where is Tapas Alley?
Its main streets are located throughout the center of Benidorm, which is normally reached, from the Paseo de la Carretera, one of the most commercial streets of the town. The most important streets and squares are: Calle de Santo Domingo, Calle José Martínez Oriola, and Plaza de la Constitución. Here you have a small map so you can easily find it:
Which are the main bars down Tapas Alley?
Strolling through any of its streets, every five steps you will come across a new bar each with its tasty and appetizing pinchos on display in thier glass cabinets. However, to make things easier for you we would recommend, according to our criteria, the 5 key areas you should visit both for the quality of their tapas and for their many years of experience: La Cava Aragonesa, ciderhouse Aurrera, Tragantúa, Txapela and El Gazteluxo.