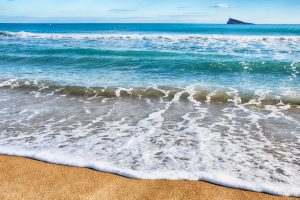 Easter is a perfect time to take a necessary break in our routine that we've not had a chance to do since Christmas. And it's something we all deserve, a few good days, peace and disconnection, no? A plan that is even more irresistible when Easter falls at the end of April and we are lucky enough to enjoy it in a place like Benidorm. Are you coming to Benidorm for Easter? Even though it's just a few days we're sure they'll make you feel marvellous.
There are lots of people who choose the Easter holidays to take their first dip in the sea on the Benidorm beaches. We are expecting minimum temperatures this month of 20 degrees, we are convinced that this year the good weather will repeat itself. However, if you think that this idea is too much for you, we are sure that what you can do is to spread out your towel and surrender to the pleasure of sunbathing whilst listening to the noise of the waves and feeling the sand under your feet.
But Benidorm is not just beach. There are many more things you can do. So, we recommend comfortable clothes and shoes and that you be willing to venture out with the plans that we have to propose for your Easter Week in Benidorm.
Benidorm beaches
Arrive in Benidorm, collect the keys to your Beninter apartment and … What do you think will be the first thing you want to do in the town? We would guess: you'll go out to see the beach! From any of our apartments in Benidorm, you will have the Levante beach a few minutes' walk away. Once there, you choose: would you take off your shoes and take a walk through its fine sand? would you check the temperature of the water? Or would you lie down, close your eyes and let your mind go blank while the sun tans your body?
If you prefer to see the town first and leave this moment for later, we would recommend you start from the Levante seafront, walking along the beach. When you reach the end, you will be in the centre of Benidorm and you will realize that you cannot continue straight onto Poniente beach. You have to choose one of the following options: ascend to Benidorm Castle and then go back down or go through the old town streets. Awaiting you on the Poniente side are a few more kilometres of beach and a lovely promenade.
If, on the contrary, you love the sea and want to get closer to it, enjoy a new experience and immortalize in your memory one of the most beautiful panoramic views of Benidorm, our recommendation is to take a boat trip to the Benidorm island. This is considered an extension of the Sierra Helada natural park and can be visited every day by boat. If you still want to do a bit more, it's also possible to visit the island on foot and go on another boat with underwater vision. Undoubtedly, a plan that excites children and grown-ups.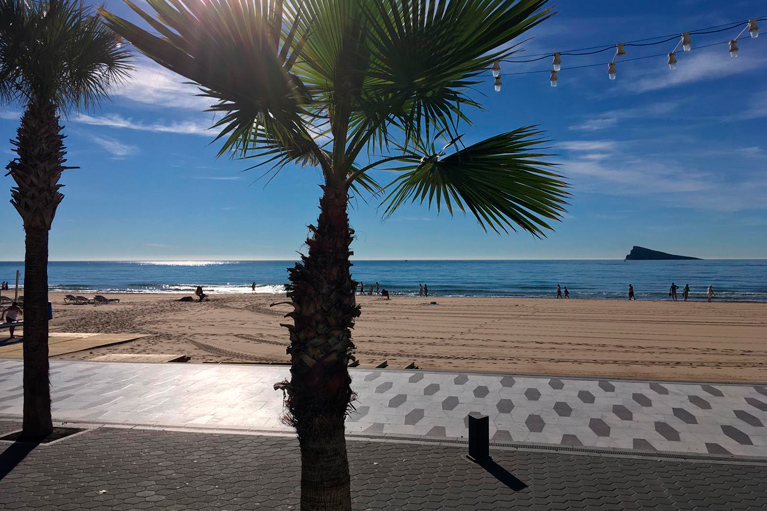 Getting to know the Rincon de Loix …
But not everything is going to be the beach! Benidorm has many more places to discover and we suggest that you take your time to get to know the neighbourhood where the Beninter Benidorm apartments are located. In our blog we have dedicated a post telling you what to see in the Rincón de Loix.
… And the Benidorm centre.
And when you are satisfied with your walk around the Rincon de Loix, how about heading to the centre of town? Some of the essential parts and streets are the following: Plaza Triangular, Calle Gambo, Calle Martínez Alejos, Calle Alameda, Paseo de la Carretera, Plaza de la Cruz, Calle Ruzafa and Parque de Elche. They are the main, commercial and busiest streets of the town.
However, there is another group of less known alleys perfect to continue your walk and close to the place we would like to recommend you go to eat something. Condestable Zaragoza Street, San Lorenzo Street, Alicante Street, Santa Faz Street, Cuatro Esquinas Street or Plaza de la Constitución are the oldest but less known and walking through them you will reach the place where at some point of your holidays in Benidorm you will have to make a stop to eat some delicious food: The Basque Area, 'Tapas Alley'.
The best way to visit Benidorm is on foot, but at this time of year by bike is another highly recommended option. In addition, the town has made lots of changes so that cycling around is a simpler task.
The Benidorm Island is the jewel of the skyline that can be seen from any part of the town when you look out to the sea. But … What if we told you that you can visit it? Each day different trips are organized allowing you to see the view the other way round. A plan that we would encourage you to include on your to do list in Benidorm.
Travelling with children in Benidorm
And what happens if you are travelling with children? It's not a problem! You can make numerous plans in Benidorm as a family. The town has an amazing offer of attractions and plans for all audiences and, within it, families and children have a wide range of possibilities. At Easter time the Mundomar animal park will have just opened its doors for the new season and we cannot imagine a better option to excite the little ones by spending a morning or an afternoon with the family contemplating the more than 30 animal species.
The park offers different ways of interacting with animals through photographs, feeding them or watching them in the shows, with dolphins being the favourite of all. The location of the park in the Sierra Helada will allow you to enjoy beautiful views of the town from above.
Where to eat in Benidorm
If you are looking for some gastronomical recommendations for your Benidorm holiday, here's a few, for different likes and prices.
· The Falua. Located in the area of La Cala of Benidorm, for a slightly higher budget, but excellent quality, service and surroundings.
· Llum del Mar. A restaurant that also has prices above the average but in which you can experience the wonderful seafood while enjoying a panoramic view of the Mediterranean.
· La Posada del Mar. We are sure that whatever you order, you will enjoy a delicious dish. However, considering that it is a restaurant located opposite the beach and the Benidorm Port, with experts in rice, fish and seafood, we recommend that your choice be based around this.
· Basques Street. (Tapas Alley) food served in the style of northern Spain, small tapas and food on a stick, great atmosphere at any time of day and where you can eat plenty without over spending.
· Chico Calla! Wine and fresh produce, a menu full of typical dishes from the Alicante province with references to their lifestyle and craftsmanship.
· The Bandit. Another place to go for tapas at a good price, very popular with local in Benidorm where the live performances ensure a good atmosphere.
· XOXO. Their shakes are their main speciality. But their burgers are too, they are served with some gloves, a detail that gives you an idea of how big they are.
If you are a nature lover
If during your stay in Benidorm you are looking for places to enjoy and like getting closer to nature, you could take a hiking route through the Sierra Helada or Puig Campana. Another idea that we would like to propose today is located about 35 minutes from Benidorm by car, in Callosa de Ensarriá. You can visit the Fuentes del Algar, where you can take a 1.5 km easy route along the Algar River, contemplating and falling in love with the different landscapes, the impressive waterfalls and natural reservoirs and a very abundant Mediterranean vegetation. A visit recommended by anyone who has been fortunate enough to enjoy its beauty.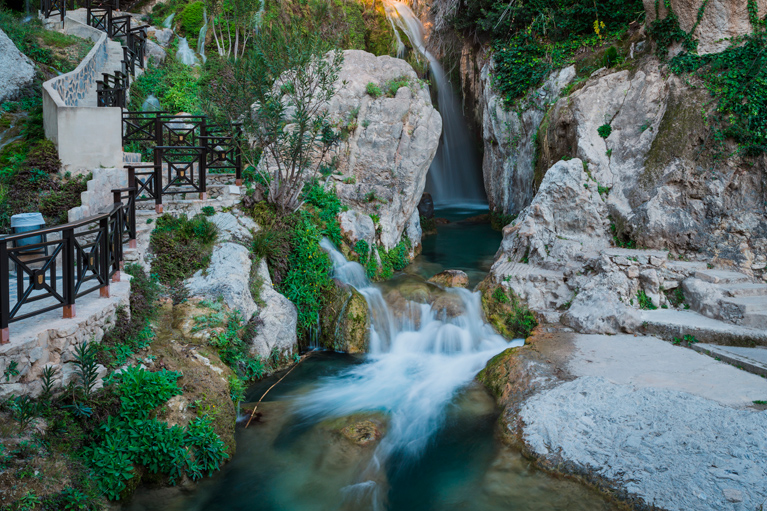 If you want to discover Benidorm in the most comfortable way
If you're not sure that you are going to have enough time to see Benidorm, or you just want to take it easy, we cannot think of a better option than using the panoramic bus. With two different routes, you will get an overview of the town and its surroundings. In addition to contemplating with your own eyes the beautiful views, these buses have an audio system with tourist information whilst on the route.
What if it rains during our holiday?
April in Benidorm is usually a hot month with the sun taking the main role. But it could be that some days the sun gives way to the rain. In that case, what do we recommend? That you consult our post about plans to do in Benidorm in the rain and discover that even in bad weather, the town continues to offer plenty of possibilities.