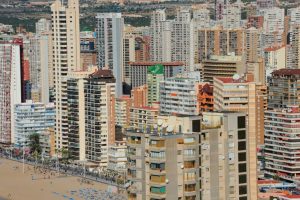 At the North end of Benidorm we can find an area that gathers more skyscrapers than the whole town. One of the most extensive neighborhoods of the town, which has the most international atmosphere and where you can find all kinds of entertainment. We are talking about the Rincón de Loix and today we want you to discover what can be found there.
Where to find it?
The Rincon de Loix is located in the Levante area of Benidorm bounded by the Avenida Europa and the Sierra Helada mountainside. Its main and most prominent avenues are the Mediterranean, Ametlla de Mar and Severo Ochoa.
What to see in the Rincón de Loix?
In this area of ​​Benidorm you will find a never ending offer of restaurants, bars, pubs and theme parks for all likes that will make your visit a pleasant one. However, we would like to highlight 4 key point attractions that are a must.
The most important and main part of The Rincon de Loix is ​​its beach. The Levante beach offers miles of sea and sand that you can enjoy all year round, either walking or swimming. Along the beach you will find different attractions for children and adults, water activities to enjoy alone or as a family, the most important being Water skiing.
The first, a water park. The second, a marine animal park. Both are located in the beautiful natural environment offered by the Sierra Helada. The two parks are designed to ensure fun for all audiences and your visit is more than recommendable.
The British area or, more commonly known as 'The Square' has always been the favorite part of the town to the tourists from Great Britain to the point that it has become theirs. It is located in the Rincón de Loix, with its main streets Gerona, Lepanto and Mallorca. You will find a lively atmosphere at any time of the day and you will find British restaurants, bars and pubs.
Another attraction that deserves to be highlighted is the Benidorm Palace, a magnificent venue that hosts spectacular shows by both Spanish and international artists.
How to get from the center of Benidorm?
The best way to get to Rincón de Loix from the center of Benidorm is by walking along the Levante Beach or the Mediterranean Avenue. It is also possible to make this trip by bicycle. However, if you are looking for public transport, the main bus lines that connect both points are 5, 11, 16 and 30.