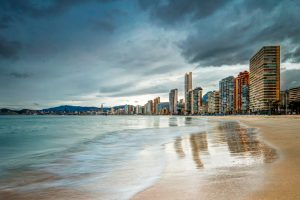 The sun is almost always shining in Benidorm. This is the case 95% of the time. But what if your Benidorm holiday coincides with the 5% of the time that the sun is hiding and instead you awake to a rainy day? It's not a problem, don't worry you won't have to stay locked in your apartment in Benidorm waiting for the sun to come out again. We would like to encourage you to carry on enjoying the town with these plans for a rainy day. Don't let bad weather ruin your holiday!
Benidorm shopping center
The Marina shopping center is a perfect plan for a rainy day in Benidorm, you can treat yourself, enjoy a nice meal, have a drink, watch a film or have an afternoon of bowling. Do you fancy going?
Museums in Benidorm
Another proposal to get out of the rain, make the most of your time to get to know a bit about the history of the town. To do this we would propose you visit the Boca del Calvari museum. Located in the center of Benidorm, this recently opened space has different and changeable exhibitions that will allow you to get to know the culture and traditions of the town.
Escape Room in Benidorm
The most original and fun plan that we have come up with to do in Benidorm on a rainy day is to experience the adventure of an Escape Room. Do you know what it is? It is a group activity where you work as a team facing a challenge like disabling a bomb, escaping from a room in a limited space of time etc.. In Benidorm you can experience this Lockdown game and try one of the three challenges that they have to offer. We cannot think of a better plan enjoy in Benidorm with family or friends.
Cinemas in Benidorm
One of the best options for a rainy day is popcorn and a film. Why not try it on your holidays in Benidorm? The 3 cinemas in Benidorm are the IMF Cinemas (in the La Marina Shopping Center), the Colci Cinema in the center of Benidorm and the Colci Cinema in the Rincón de Loix. The Rincon de Loix one offers some films in English so check the billboard!
Bowling in Benidorm
Another fun option to do when the weather does not accompany your Benidorm holiday could be bowling. You have two options. The bowling Ozone, in the center of the town, or Bowling Paradise, at the La Marina shopping center. In both you can find arcade games, bowling alleys and a restaurant to spend an entertaining afternoon.