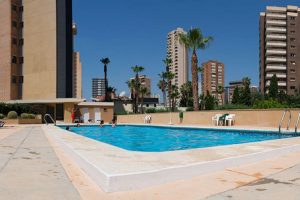 One of the ways to enjoy your holidays the most is by sharing it with your family. We know that planning and organizing a holiday for everyone is complicated and can give you a head ache, when planning activities and where to stay in your chosen destination. But even so the end experience will always be special after experiencing it all together.
The planning can get even more complicated when part of the group are children. But in this case, at Beninter we make things a bit easier, we are sure that if you a stay in a Benidorm apartment it will be perfect for children. The reasons why? We'll tell you below.
Fully equipped spacious apartments in Benidorm
All of the Beninter apartments are fully equipped with appliances and accessories that you need for your day to day. Having a fully equipped kitchen 24 hours a day, for example, will save you on more than one occasion. We're sure that someone will love having their favorite treats in the fridge, the children!!
Apart from the contents, our apartments also have different rooms, a balcony and more than enough space for the youngest family members to feel at home and play comfortably.
Benidorm apartments with a swimming pool
So inside the apartments the whole family will enjoy the comforts that will make their stay easier and pleasant. But, what happens when you go out of the door? The fun gets even better.
All of our Benidorm apartments have communal areas meant for relaxing and having fun. The latter directed mainly at the children and the relaxation for the adults, don't you think?
If you check the information of all of our different apartments, you will find that they all have swimming pools. Some even have a second children's pool. Some of our apartments include in the communal areas a small children's park, tennis and padel courts, gym and grassed areas to run and play.
Relaxing holiday apartments in Benidorm
One aspect that most people value when they are looking for somewhere to stay on their holidays is the location. That the chosen place is in a quiet area but with good connections with the principle areas of interest, somewhere that you can move comfortably around the place.
This is what the Beninter apartments have to offer. They are all in the Levante area, the Rincon de Loix. Far enough away from the center to escape the hustle and bustle but only a 15 or 20-minute walk away. In 5 or 10 minutes' walk you can be feeling the sand of the Levante beach under your feet.
Within the area of our apartments you will find all types of shops, banks, restaurants, amusement and games lounges to carry on adding to your holiday fun.