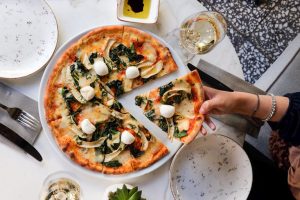 The best solution for when you can't be bothered to think about what to eat, one of the things we love to enjoy with friends and family, something that suits all tastes and preferences and in addition it's delicious. Who hasn't gone on holiday to any part of the world and not ended up eating a good pizza? Your Benidorm holiday wasn't going to be any less!! So that you get the right place, here are a few of our recommendations of places to eat pizza in Benidorm.
Italian restaurants in Benidorm
If your thoughts and appetite, in addition to pizza, fancy other options, how about you try some of the Italian restaurants that we are going to recommend?
In the heart of Benidorm, on Calle La Palma 36, ​​you will find Pizzeria Originale. A pizzeria with a traditional touch where you can feel at home while you eat, but an Italian home. It's a restaurant frequented by many locals and in which the taste and quality of the dishes as well as the service have earned our recommendation.
At the weekend there is usually a queue to be able to get a table and many say that they have the best pizzas in Benidorm. This pizzeria is called Va Bene and is located in the ​​La Cala area of Benidorm, on Poniente, specifically on Avenida Vicente Llorca Alós 13. In addition to very rich pizzas, you can savour other Italian and Mediterranean cuisine dishes at an affordable price.
Finally, in the ​​Rincón de Loix area, Levante side, our favorite Italian corner. Is the Pizzeria Duetto, on Calle Londres 4. Everyone that eats here, recommends it and repeats. Big plates, abundant food, homemade, tasty and at a more than reasonable price. Would you like to try it?
Benidorm take away pizza
And if what you really want is to open the door of your apartment in Benidorm and have your hot pizza delivered right there? There are many pizzerias with a home delivery option but the most popular ones are still the same ones that we find in many other cities and which, of course, we can also find in Benidorm. We're talking about the most well-known chains, Telepizza and Domino's, and to add to the list another well-known and popular one in Benidorm and in the surrounding towns, Pizza4U.
If you prefer to go to the pizzeria, in Benidorm you can find two Telepizza restaurants, one on Avenida Jaime I 12 and another on Avenida Europa 9. The Domino's Pizza Benidorm was recently opened and is located on Avenida Alfonso Puchades 25. And the Benidorm Pizza4U you will find on Avenida del Mediterráneo 15.
Benidorm Pizza
But if there is a place that everyone in Benidorm comes to mind when they're asked about pizza, it is, without a doubt, a small stand that has been selling pizza for almost a lifetime almost 24 hours a day. It is part of the Cafeteria La Creu, in the Plaza de La Creu 4, and perhaps its busiest time is the early morning, as there is no Benidorm local who has not made a stop at it to buy some pizza to eat on the way home after a night on the town. They are cheap, they are ready in a moment and they taste like glory.