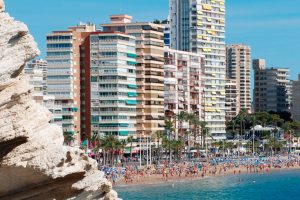 Known to many as the "New York" of the Mediterranean. Well it is the second place in the world with more skyscrapers per square meter. However, it is located on the other side of the world, occupying a small part of the Alicante province. We are talking about Benidorm, of course, and precisely it's about that, its location, that we want to talk to you about today.
As we have said, Benidorm is located in the Alicante province, in the Valencian Community, and is specifically part of the Marina Baixa region. The town unfolds along the Mediterranean Sea, it is surrounded by 4 different mountains and its tall buildings make it the town with the most skyscrapers in Spain and more skyscrapers per inhabitant in the world. In addition, it is the most populated municipality of the region with a density of 1,792 inhabitants per km² and a total of 67,558 inhabitants (data of the INE in 2018). And all of this is concentrated in an area of ​​only 38.51 km².
Alicante is one of the most mountainous provinces of Spain, although they are not the highest of the country. The second highest peak, with 1,406 meters, belongs to the Puig Campana, the mountain that surround Benidorm to the North. The others that surround it are the Sierra Helada Natural Park (to the East), Sierra Cortina (also North) and the Tossal de la Cala (to the West).
And how does this location benefit Benidorm? The mountain ranges protect it from winds and cold, giving it an enviable climate throughout the year. But there is more. Its southern orientation opens out onto the Mediterranean allowing you to enjoy the sun from the moment it rises until it sets. Thanks to all of this, its temperatures, as well as the water, are warmer than on the rest of the coast and perfect to visit and take a swim at any time of the year.
Due to its temperature, extension and services, the Benidorm beaches make up its main tourist attraction. All three have the blue flag of quality granted by the European Union. Wilder and not as easy to access are its two beautiful coves: Tio Ximo and Almadrava. Another aspect that enhances the attractiveness of its coastline is that it is split in two by a rocky point where you can find the castle area.
If we talk about the municipalities that limit with Benidorm, these are Alfáz del Pi, La Nucía, Finestrat, Polop de la Marina, Altea and Benimantell. Benidorm is the nerve centre of all of them, but, together, they form a beautiful panorama which taking a route through them is a more than recommendable option to be able to explore and enjoy the beauty of Alicante.