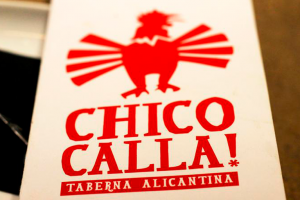 Whilst on holiday in Benidorm our taste, our mood and of course our budget make us look for different things.
Sometimes we want to buy something practical and fresh to eat whilst we're on the beach sunbathing. Other times we want to save some money and we pop to the supermarket, do some shopping to prepare a delicious meal in our apartment in Benidorm, an excellent solution. But then there's the times that we fancy trying the gastronomy that this beautiful place has to offer.
When the latter is the option you fancy but you're not sure where to eat in Benidorm, today we bring to you our most recent discovery: The Chico Calla! tavern.
Chico Calla! Benidorm
Chico Calla! Is a new concept of restaurant that fuses tradition and avant-garde with a quality-price ratio that is more than enviable.
Its traditional component comes from its gastronomic offer. Wine and fresh produce, a menu full of typical dishes from the Alicante province with references to their lifestyle and craftsmanship. Many of the recipes handed down by mothers, grandparents and other ancestors. Can you think of a better guarantee that the food will be really delicious?
The avant-garde touch is achieved with contemporary dishes and fusion that complete the menu and the decoration of the place which has an industrial style where boxes of wine, wood, wrought iron and olive branches have been used to decorate.
To be able to take on this franchise the owner must meet two essential requirements: the love of food and the love of our land of course. And this is the case in this bar/restaurant where this dedication can be felt.
Restaurant in the centre of Benidorm
In addition to their delicious menu, we want to recommend Chico Calla! Thanks to their great atmosphere and good vibes that can be felt in their bar every day since its recent opening.
Its excellent location is, surely, one of the reasons for this. It is located on Tomás Ortuño Street 33, in the centre of Benidorm. You can't find a restaurant with an offer like Chico Calla's in this area! This has also made it the perfect meeting place, especially when the sun goes down.
The space distribution is another aspect that promotes the good vibes. The diners sit on long bars and large tables where different groups of people mix together.
With all this, Chico Calla! Is without a doubt, an excellent option for the day but even more so a place to make the first stop of the night. How does this plan sound to you? Enjoy a nice dinner in a cosy and lively environment, have a drink and go back to the apartment. Or, who knows? Go to the next stop and get into the Benidorm nightlife.