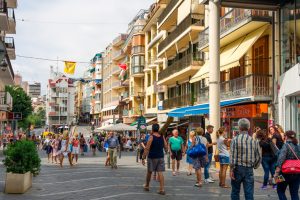 We are almost sure that during your stay in Benidorm you will not need to read this post. But we say "almost" instead of making it a clear statement because setbacks and emergencies do happen. And when we're on holiday, too. Where should you go if you have a medical emergency in Benidorm? What are the emergency numbers Benidorm? We will give you some details so that you can find a quick solution to any situation that might occur.
Health centre in Benidorm
For non-residents of the town there are 3 public doctor's surgery's. Two of them in the old town area:
· Tomás Ortuño Health Centre on C/ Tomás Ortuño, 69. Telephone: 96 681 65 50.
· Foietes Health Centre in C/ Venezuela, 12. With emergency service. Telephone: 96 687 05 00. Emergency telephone number: 96 687 05 01.
· Right in front of this on C/ Venezuela, 5, is the specialties centre.
In the Rincón de Loix, in the Levante area, you can find the third:
· Rincón de Loix Health Centre on Juan Fuster Zaragoza Ave., 1. With emergency service. Telephone: 96 681 63 45. Emergency telephone number: 96 681 63 50.
Benidorm Hospital
If you need to go to the hospital, there are two private hospitals in the town:
· Hospital Clínica Benidorm on Avenida Alfonso Puchades, 8. Telephone: 96 585 38 50.
· IMED Levante Hospital on C/ Doctor Santiago Ramón y Cajal, 7. Telephone: 96 687 87 87.
Benidorm Police
· Local Police Benidorm, in C/ Grecia, 6. Telephone: 96 680 77 66.
· Benidorm National Police, in C/ Apolo XI, 36. Telephone: 96 683 19 34.
· Guardia Civil Benidorm, in C/ Capitán Cortés, 2. Telephone: 96 585 42 72.
Other emergency services in Benidorm
· SAMU. It is the Emergency Medical Assistance Service. Phone: 112
· SATE. In Benidorm there is the SATE (Foreign Tourist Assistance Service), a police office designed to offer tourists victim to any infraction or incident a personalized assistance. It is located at C/ Gerona 44, corner with Avda. Derramador. Telephone: 96 556 36 75.
· Firefighters of Benidorm, on the European Community Avenue. Telephone: 96 567 56 97.