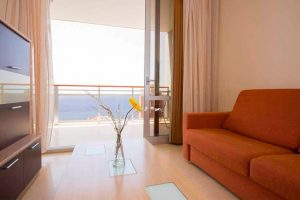 There are plenty of ways to enjoy a holiday in Benidorm. Trying to find some peace and quiet. Thinking about making the most of the nightlife. Or for example, making family time your priority or your friends. Whichever way you're thinking about it, there is an aspect that can make your stay a more pleasant experience: rent an apartment in Benidorm with Beninter.
Especially if you are taking a long holiday, but also if you're taking a quick weekend break, staying in a Beninter Benidorm apartment you will enjoy more comforts and freedom as well as saving money. Do you want to know about some of the advantages that we have to offer?
Central apartments in Benidorm
At Beninter we can assure you an unbeatable location when renting an apartment in Benidorm. This is because our apartments are concentrated in the Levante area, which situates them in a key location in Benidorm: close to one of the main beaches (Levante), 10 minutes' walk from the old town and in a neighborhood with plenty of services, restaurants and especially entertainment.
We can assure you that from any of our apartments in Benidorm you can get around comfortably on foot, no need for a car. Explore the Rincon de Loix area, the beaches, get lost in the old town or take a walk along the Levante seafront. If you like walking for hours, make it to La Cala of Benidorm on foot.
We have also taken into account that all of our apartments are close to our office, so that if anything unexpected happens or you need to deal with your booking etc. it will be sorted quickly.
Peaceful apartments in Benidorm
For those who are looking for privacy and some peace and quiet, there's no better option than an apartment in Benidorm. All year round tourist occupation is high and in alternative types of accommodation you can find busy dining rooms and lounges full of people but an apartment provides you with your own private living space.
On the other hand the freedom of coming and going without specific times that an apartment offers you can't be compared to other types of accommodation. You can use your temporal accommodation just as if you were at home.
Fully equipped apartments in Benidorm
Take an afternoon nap on the sofa, iron that shirt that got wrinkled in the case, wash out that stain that you just got on your best top, have a cup of tea at any time of the day… The feeling that you are at home is reinforced thanks to the Beninter Benidorm holiday apartments being fully equipped with everything you need day to day. What does this offer you? The possibility of travelling without worrying about anything and a lighter suitcase.