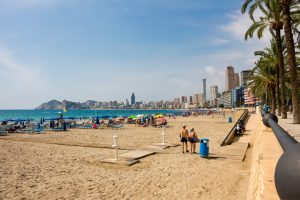 Summer is feeling great! In Benidorm it's so easy to enjoy it. Beach, pool, sun, terraces, dining in the open air…. and do it all over again, this is how we are spending our days here. You could do the same if you came on holiday to Benidorm. As well as this July is full of plans we want to tell you about, so that you don't miss anything. So, as we always say… Grab a pen and paper and take note of this month's events.
Low Festival Benidorm
One of the most anticipated events of the month of July, especially for the younger audiences, is the Low Festival. And this year even more so as the festival is celebrating its 10th edition and is expected to be full of surprises. Different music styles and proposals come together at the Guillermo Amor Sports Center, the weekend of the 27th, 28th and 29th July. You can also enjoy the spacious and comfortable areas offered by the installations. On Thursday 26th you can join in the traditional free opening concerts on the Levante beach.
Reggaeton Beach Festival Benidorm
Plenty of towns sent requests to be able to hold the festival in their town. But Benidorm was the chosen one to host , on the 19th July, also in the Guillermo Amor Sports Center, the concerts of the artists and DJ's of this type of music. Throughout the day there will also be, in addition to music, activities, master classes and more surprises.
Concerts in Benidorm
This summer it looks like Benidorm will beat its record number of concerts throughout the summer. We love the idea! Can you imagine that whilst you're on your Benidorm Holiday you could enjoy seeing one of your favorite artists. Well this easily could be the case. This Friday 6th July, its Sergio Dalma's turn at the Julio Iglesias Auditorium. On the 12th July, same place, Sweet California . 20th July, within the 'Con Mucho Arte' Festival, Antonio Orozco will also be at the Julio Iglesias Auditorium. And 22nd July Pastora Soler will be at the Benidorm Palace.
Other shows to take into account, even though they are not singers, we think they could be of interest. The Morancos perform on 14th July (a Spanish comedy duo)and The Vinancos on 21st  July (a dance performance) and Sara Baras on 22nd July. All of which are at the Julio Iglesias Auditorium.
St James and St Ann Fiestas in Benidorm
On 25th and 26th July, the streets of Benidorm are decorated to celebrate the day of St James and St Ann. Wondering why? Because along with the 'Virgen of the Sufragio' they are the patron saints of the town. So for a couple of days there are plenty of activities where you can learn part of the Benidorm traditions.