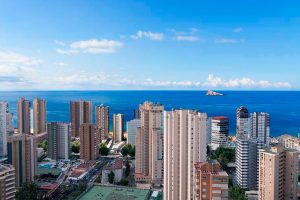 Afternoon nap on the sofa, a glass of wine in the evening on the terrace, decide your own timetable, fill the fridge with your favorite treats… Going on holiday and having an apartment at your disposal is a complete luxury. Our Benidorm apartments also have a great location, in only ten minutes you'll be putting your parasol up on the beach or sitting down on a terrace in the town center.
Have you booked your Benidorm apartment yet? At Beninter we make it easy, but just in case we'll answer a few common questions.
Is it safe to make an online booking with Beninter?
Definitely! Our site has an SSL certificate, with technology designed to maintain a secure connection on the Internet and to protect all confidential information, such as personal data, that is sent between the two systems. This way, we make sure that nobody can read or modify your data, being BENINTER S.A. the only authorized owner to access them.
On the other hand, all our apartments have their corresponding license and legal authorization that guarantees that they comply with current regulations.
Do I have to pay for the apartment when I make the booking?
Not if you choose the Free Cancelation rate. In this case you have the option to pay your apartment on the day of your arrival in Benidorm. You can pay by credit card (VISA OR MASTERCARD), by bank transfer or in cash. As a guarantee we will request your credit card details or in the case of bank transfer, it would have to be made 14 days before your arrival.
If I cancel my booking, will I get my money back?
Yes as long as you made the booking with the Free Cancelation rate. We understand that things happen and in the case of unforeseen circumstances, you will have time to cancel your confirmed booking up to 7 days before your arrival. In the case that you cancel or change your booking within the 7 day period before your arrival, you will be charged 30% of your original booking.
Where is the apartment key collection in Benidorm?
Whenever possible key collection is at the Beninter office, Ibiza Street Nº6. Summer hours Monday to Friday 9am to 8pm and Saturday 9am to 2pm and 3pm to 5pm. Winter hours Monday to Friday 9.30am to 1.30pm and 4pm to 7pm and Saturdays 9.30am to 1.30pm. In the case you arrive out of office hours key collection will be at the Hotel Marina, Cuenca Street Nº6.
What happens if I have an emergency throughout my stay?
With the intention of offering a complete service Beninter has a 24h telephone number at your disposal that you must call exclusively in those emergency situations.
What equipment does the apartments include?
The Beninter Benidorm apartments are fully equipped so that during your stay you feel at home. All the kitchens have a ceramic hob, fridge, oven, microwave, coffee maker, toaster and complete kitchenware. All apartments have a washing machine, ironing board and iron, towels and sheets that are changed weekly, air conditioning, heating, TV and safe. The apartments also have free parking spaces but these are subject to availability.