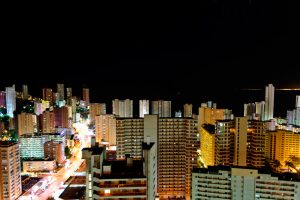 Benidorm is not only well known for its skyscrapers and beaches. On an international level its reputation is mainly thanks to its nightlife. Why are we going to kid ourselves, in Benidorm you can find a great party atmosphere any day and time of the week, especially in the summer months. You can't possibly end your Benidorm holiday without experiencing its nightlife. So keep on reading to find out more about the different areas where you can go out at night.
Discos with free entry for all audiences and likes, drinks at great prices, amazing atmosphere until the early hours of the morning… There are lots of people that come to Benidorm on holiday or just to visit and the town is prepared to offer great nightlife with a wonderful atmosphere, attractive to each and every one of them.
Unlike many towns, in Benidorm its not fashionable to go out to one disco and stay there all night. There are so many pubs and discos and all so close together that a classic night in Benidorm is to take a route passing through the different areas and pubs. Here's some more details!!
'Zone 9' of Benidorm
The area known as zone 9 is a great starting point for a night out in Benidorm. On its main streets, 'Esperanto' and 'Gerona' there are numerous bars and restaurants where you can dine and have your first drink. The music and tapas of 'El Bandolero' (formerly called El Andaluz), the fish and seafood of 'The Gaviotas', the Argentine barbecue of 'La Salamandra', the Italian 'La Toscana'… There are plenty of gastronomical options in this area of Benidorm.
'Cats alley' in Benidorm
Moving on towards the old town of Benidorm. On 'La Palma' and 'San Roque' Streets there are some very popular pubs like 'Hagars' or the 'Na que Beer'.
But without a doubt where most atmosphere is concentrated is on 'Cats Alley'. It's a steep and narrow cobbled street that leads up to the St James church, where the many small pubs are found with an attractive offer of drinks and shots and music to choose from, according to your preferences. Like the 'Mars', 'Bar Callejon' or the 'Kakao'. On the street parallel to these, 'Metge en Cosme Bayona', you can find more pubs and a couple of larger discos: 'Portobello' and 'La Posada'.
The average drinks price is around €4-5 and these pubs normally close around 4am.
Levante Beach Benidorm
When the alley bars begin to close , the route carries on towards the Levante seafront where you can find the main Benidorm discos. The 'Ku Lounge', 'Moon beach',' Richard New Look', 'KM',' Penélope' and ' Heartbreak Rock' are the main ones. If you have ever passed by you will have seen for yourself that during the day the terraces are ideal for a drink overlooking the sea. But at night the atmosphere transforms.
These discos are free entry, offering drinks around €7-8 each, even though there are 'props'  around offering discounts, closing time is around 6-7am.
British area of Benidorm
The main British area, commonly known as 'The Square', belongs to the British tourists. It is an area in the Rincon de Loix area of Benidorm where the shops, restaurants, bars and pubs are British and are orientated towards the British public. Before you go you need to mentally prepare yourself for the curious and extravagant scenes that you might find on a night out.
The locals end their night here because they want to make the most of the night. Closing time is around 7-8am, the principal discos are 'Red Dog',' Hipodromo', 'Bahamas' and 'Beachcomber' on the 'Lepanto' Street and 'Mallorca' Avenue.
The Top Road discos in Benidorm
The 'Comunidad Valenciana' Avenue running towards Altea is known locally as the 'Top Road Clubs'. It is the area of the largest discos, nightclubs and the afterhours. Some of the seafront discos have their XL club version, like 'Penelope', 'KU' and 'KM'. They are orientated for those who chose to carry on dancing once the beach ones close, you do have to pay to get into these ones.
The locals normally come to this area on festive dates like, New Years eve or other events and concerts, especially in summer. Drinks are around €12-13 each and the music is House and Electronic.
Basque area in Benidorm
Another plan that people choose when they want to dine out and enjoy the night is the Basque area of Benidorm. 'Tapas Alley'. The increadible atmosphere is concentrated on Santo Domingo, Costera Hostal, Jose Martinez Oriola and Plaza Constitution Streets. Where you can enjoy tapas, Pintxos in the purest Northern Spain style accompanied by music in the very center of Benidorm.