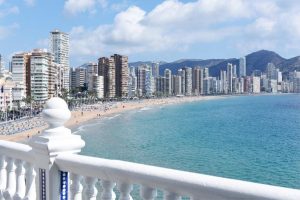 Have you started to prepare your holiday in Benidorm? Do you know your dates? How long you will be staying in this beautiful town? Do you know who's coming with you? If you answers are yes, you're nearly prepared. Now, have you considered whether to stay in a hotel or an apartment? We want to make the decision easier and convince you that an apartment in Benidorm is a great option. Here's our 10 reasons to show you why!
#1. Apartment holidays are perfect for groups and families
Staying in an apartment will always be the most comfortable option for groups and families for a simple reason of space. As for the layout, an apartment offers individual bedrooms where you can relax and even better, separate common areas, reserved for socializing. As for the dimensions, you have more space to move comfortably and store your luggage and belongings. All this will allow us to have a more comfortable stay and enjoy time spent with friends or family.
#2. When we say family holiday, we include everybody, even your pets
Pets are an equally important member of the family . We often think twice about going away because we can't include them in our plans. Many apartments, with a difference to most hotels, let animals stay too.
#3. An apartment makes you feel at home
Have your own bathroom, kitchen and balcony… A holiday apartment is the perfect option to escape from your routine , but at the same time, enjoy your home comforts. The freedom that an apartment offers can't be compared to other accommodations. Shop and store cool drinks and treats, cook when you are hungry, have a nap on the sofa are just a few of the little things to be enjoyed in an apartment, especially when your stay is a longer one.
#4. A holiday apartment gives you great privacy
Unlike hotel rooms that are only separated by a few meters, a holiday apartment offers you more space to feel the freedom of movement and the privacy of your own home.
#5. An apartment allows you to have friends round
Imagine that there are two families in your group and you are staying in the same building. Or imagine that your friends are spending summer in the same place as you. There are plenty of situations that you could find in which you would appreciate having an apartment where you can meet up, have lunch or dinner with friends without worrying about causing an inconvenience to your neighbors (which, for example, would happen in a hotel) and with all the space you need.
#6. A well equipped apartment is a solution to different situations
Use the washing machine for an emergency, iron that shirt that came out of the suitcase a bit creased, cook or heat up whatever we fancy… A well equipped apartment will solve many of the small incidents that can happen throughout the day. This is why the Beninter apartments in Benidorm (pag apartamentos)are fully equipped with everything you need for your holiday: coffee maker, toaster, washing machine, iron and ironing board, complete kitchenware…
#7. You holiday in an apartment allows you to save money
Firstly for the rates. The prices of apartments tend to be cheaper than hotels and the more people stay in the apartment, the more the price can be divided. On the other hand having a kitchen with a cooker and a fridge allows us, if we want to, cut costs, for example breakfast or some meal times when we can improvise something quick in our own rental home.
#8. Many holiday apartments have their own parking
A great advantage of apartments for those who travel by car or use rent a cars, without a doubt is that many of them offer garages or parking spaces in the same building. In the case of Beninter apartments, all (except Coblanca 41) have this service.
#9. There is a variety of apartments that adapt to a variety of likes and needs
The variety offered by hotels is quite limited. Those offered by apartments are endless. different rooms, possibility of bringing pets or not, including parking or not, having a pool or tennis courts… you can chose the features that fit in best with you and your budget.
#10. In addition, with Beninter apartments, immediate solutions
One of the main arguments used to justify the benefits of a hotel against apartments is that in a hotel you have a reception where you can complain, request and sort out emergencies. However in the case of Beninter apartments this is not a disadvantage, we have an office in Benidorm close to the apartments and a 24 hour emergency telephone number.