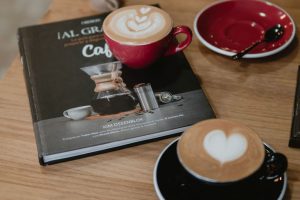 There are those who search and search for a perfect place to enjoy a delicious meal at lunch or dinner time. However, there are also those who do so to enjoy the pleasure of eating between meals or to start the day in the best way. We are sure: breakfast and in between snacks are all real pleasures. Do you want to know a perfect place in Benidorm that makes all of the previous sentence make sense? Then read on to discover Axel's Café.
The Axel Benidorm Café
Café Axel; from their Instagram account they describe themselves as a quiet and cozy place to enjoy a good cup of coffee But, in addition to coffee, there is much more to add to the list of things that can be enjoyed in this cafeteria.
Afternoon snack in Benidorm
For example, every day they surprise their customers with cakes, cookies and homemade pies or with Oatmeal and banana cookies, white chocolate brownie, yogurt and orange sponge cake, carrot cake … Depending on what they are inspired with every morning the displays will have the most varied recipes, all homemade and delicious.
As I am writing these lines, my stomach is rumbling. Do you not fancy something sweet to eat?
In addition to the homemade cakes and deserts, if this cafe stands out for something, it's for its coffee. Many people say that El Café de Axel is the best in Benidorm. Its coffee menu has plenty of different options of espresso coffee and filtered coffee, in addition to the special ones and the new proposals offered on occasional days. As well as the coffee we must also add the teas, the juices and the natural shakes.
Cafeteria in the centre of Benidorm
Café de Axel is located on Calle Apolo 11. This means that this cafeteria is located in the centre of Benidorm, a few steps away from the main points of interest of the town, such as the Dove Park, the port or the Castle area.
Another reason why we like this place so much? All types of customers are welcome included the 4 legged ones. And not only are they welcome, but also, since they opened their doors they have shown their collaboration with different animal associations with the fundraisers that they have organized.
And if you are a coffee lover and want to further your knowledge about it while you enjoy a new experience, then you must follow their social networks and be very attentive, because they organize lots of workshops.