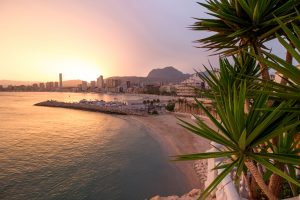 February is famously known as the month of love. On the 14th February people take advantage of the Valentine's Day celebrations, considered as the patron saint of lovers, to surprise their partners by demonstrating their love in just a little more special way than the rest of the year. Although surprises and gifts are nice and can be made any day of the year, the 14th February will always be another good reason to enjoy a different plan with one of our favourite people.
It seems to us that the best way to celebrate this romantic day is by making memories, giving our loved one an experience to remember. How about discovering a town together? A coastal town with beaches to walk along and disconnect, whose climate allows us to enjoy the sun and good temperatures, which has thousands of corners to discover, plans to do and an affordable and enviable gastronomic offer. How does this sound? Can you think of a place like that? We can! Our beloved town: Benidorm.
Benidorm is a perfect place to enjoy at any time of the year and Valentines could be the perfect excuse for a break. Here's a few plans for Valentine's Day in Benidorm.
Delicious food whilst enjoying beautiful views
One of the biggest attractions Benidorm has to offer is its kilometre-long beaches combined with its famous skyscrapers. Being able to enjoy this panoramic while our palate enjoys a delicious meal is a most appetizing plan. A restaurant where you can experience both experiences is Llum del Mar, located in 'El Castillo of Benidorm' (the castle area) and where you will feel as if you were floating on the sea.
Another place where you can contemplate beautiful views of the sea whilst savouring a good meal is in D-vora gastrobar. Recently opened, a place dedicated to creative cuisine and Mediterranean flavours. And if you have in mind somewhere else to eat or dine, you could just go for a drink on their pretty terrace.
Before continuing, we have to make a parenthesis to recommend a place where you can treat yourself to something sweet: Manneken Pis. For us, it's the best waffle and crepe shop in the area. There are two in Benidorm, very close to each other and located in the centre so … It's a must!
Cocktails and evening drinks
Late afternoon or after dinner it's always nice to refresh yourself with a nice drink while you enjoy music and good company. For these moments we would recommend you try KU Lounge Café, disco by night but a nice pub with chill out area till the night comes. It has an amazing location overlooking the sea and you can get there whilst enjoying a walk along the Levante beach.
At the other side of town, in the La Cala and Poniente area the place you need to know about is: Portus Massai, a place you can enjoy a nice and relaxing drink, and if you fancy have dinner.
Benidorm sunsets
The winter evenings offer the most spectacular sunsets. From 'The Cross', a monument that crowns the Sierra Helada mountain, you are able to observe one of the most beautiful views. From this point you can see the whole town, all of its beaches and its mountains. Without a doubt the most recommendable experience to enjoy as a couple.
From 'The Castle' area you can also capture the beautiful Benidorm sunsets. It is where the Levante and Poniente beaches join and contemplating the sunset from here is an authentic gift of nature.
Breakfast in bed in the apartment
What about surprising your partner with a special and delicious take away breakfast? We'll make sure you have the perfect surroundings. On our apartment balcony's you can enjoy breakfast feeling the sun on your face whilst looking out over the Mediterranean Sea, perfect company for this moment.
Trip to Tabarca
If you are lucky enough to extend your holiday, for more than just the weekend in Benidorm, a different plan that we would like to recommend is that you visit the Tabarca Island. It is the only inhabited island of the Valencian community and, if the good weather joins you, you will have a lovely memory of the place.