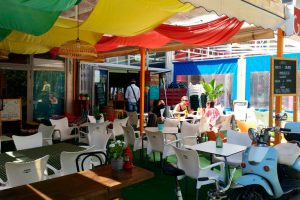 There is a place that for some time has been gaining the admiration and affection of Benidorm and its tourists. Maybe its thanks to the rich aroma coming from their kitchen that can be smelt as you pass by, maybe its peculiar decoration or its reggae music, perhaps the good vibes and welcome that the waiters transmit. Or maybe it's all these things put together. This is why we think that the bar and crepes shop, Liberty Benireggae is a great option to take into account on your Benidorm holiday.
Liberty Benireggae Benidorm
Close to the Beninter offices, it's a place that has always attracted our attention thanks to its atmosphere, its terrace and inside are always full of people. A mixture of colours. plants and fairy lights decorate the bar, positive messages and signs line the walls and an open kitchen leaves mouths watering, looking in from the outside. These are just a few things that make the place stand out from the rest.
Since we have tried it, it has become a habit. Except Tuesdays, their day off, the rest of the week the Liberty opens its doors for anyone who wants to eat, have a snack, dine or drink something there.
What can you order to eat in Liberty Benireggae?
At Liberty you can find a menu with a variety of some of the best hamburgers that you can try in Benidorm and at good price. You could also order one of their delicious salads or one of the house specials: Crepes, sweet or savory. We can assure you that with a savory crepe you will be satisfied. The sweet crepes option is great for an afternoon treat. Another positive aspect is the vegetarian and vegan options, they also cater for different food intolerances.
You must also know that Liberty is not only a great option for its delicious dishes, but also for its delicious and natural milkshakes and juices. The Oreo one has an especially good reputation.
Where is it?
Without a doubt what we like most is the location. You can find it on Murcia Avenue, number 11. One minutes walk from the Beninter office, therefore it is also only a few minutes' walk from our Benidorm apartments. Close by and on route to the main nightlife area of Benidorm, the British area, makes it an ideal place to stop on your way.
</p