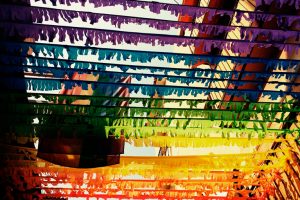 When we say that Benidorm is a destination with an offer designed to satisfy all public and profiles we are referring to all. University students, families, children, teenagers, seniors and, of course, for the gay public. It could not be any other way in a cosmopolitan town today, since the beginning of its expansion, Benidorm has been taking steps in one direction: to become an international reference where everyone can feel welcome and free.
Benidorm's fame as a gay tourist destination has been growing and consolidating over time, where the long beaches, good weather, gastronomy, multiculturalism and the growing cultural and leisure offer LGBT of the town has succumbed to this public and positioned itself as an international gay reference.
Gay friendly area in Benidorm
1962 was the year in which the first gay bar opened in Benidorm. From then until today, the number of bars has been growing, and many businesses have the Gay Friendly logo.
This area is concentrated, mainly, in the old part of the town. Along Alicante Street, Santa Faz Street, Quatre Road, Cantons and San Vicente Street there are approximately 30 gay bars and restaurants, as well as nightclubs, pubs, saunas, sex shops and other businesses.
They are small premises found in the historic center of the town with a great atmosphere, fun, privacy and all close together so you can visit them all.
A particular aspect of gay tourism in Benidorm is its multiculturalism. The United Kingdom, Germany and the Netherlands are the countries from which more tourists visit the town, making this area a very interesting, abundant and curious place.
Benidorm Pride
The Benidorm Pride is the largest and most important LGBT event held in the town. Coinciding with the end of the summer Pride calendar, Benidorm becomes, for a week, a stage for celebrations and parties.
The 2018 edition is held from September 3 to 9, with Saturday 8 being the day chosen for the grand parade on Levante Beach. Floats, music, fun and parties are celebrated throughout these days. On the 8th, after the parade there will be a free access party with performances by different artists.
Benidorm Pink Weekend
The Benidorm Pink Weekend can be defined as the prelude to the great event that is the Benidorm Pride. It's celebrated in the month of May and consists, again, of a week of music, celebrations and fun with live and open air performances. Many places take the opportunity to offer shows and other activities such as gastronomic tastings and the town breathes life from every corner.