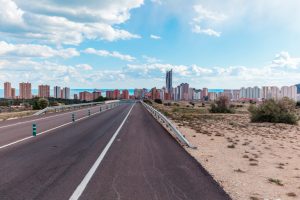 Mild temperatures in winter and hot summers, a large variety of leisure activities for all publics, an equally varied gastronomic offer for all tastes and for all budgets, nightlife, mountains, beach… Benidorm is a city that brings together a series of components that make up the ideal holiday destination, so it's no wonder that year after year millions of tourists choose it. If you are reading this it may be because you are planning visit to Benidorm and we would like to make things easier for you. There are various forms of transport to get to the city of skyscrapers.
Just in case you are not familiar with Benidorm, it is located in the Valencian Community, in the province of Alicante and, exactly, 38 km north of Alicante city and 106 km south of Valencia city. But let's get to the point: how to get there?
Plane
The nearest airport to Benidorm is the Alicante-Elche airport. To get to Benidorm from the airport, you have different options. You can go by taxi, comfortable and easy but more expensive option if theres only one or two of you, with an approximate price of 60 euros. You could also rent a car, a great option if you enjoy exploring and the freedom offered by having a car on your holidays. Finally, another convenient option is to take a bus, the Alsa company offers a bus route for 8 euros per trip, there is a bus every 30 minutes – 1 hour and they arrive and depart from Benidorm on Avenida Europa.
Bus.
Benidorm bus station is connected to more than 20 Spanish cities (such as Malaga, Madrid, Barcelona, ​​Alicante) and international cities (such as Zurich, Geneva, Paris …). A great alternative if you are not traveling from too far.
Benidorm also has urban buses that connect the city with nearby towns such as Altea, Guadalest or Villajoyosa.
Train.
Benidorm train station offers service for short distances. For longer distances the closest station is in Alicante center, the Alacant-Terminal. From there the options to get to Benidorm are similar to those of the airport. You can take a taxi, (price is approximately € 60), rent a car, take the shuttle bus from the station to Benidorm (Avenida Europa) 6 euros each way or take the TRAM (train) from Luceros station ( next to the station) this is usually free for AVE (high speed intercity train) customers.
Car.
The car is the most direct and easiest option to come to Benidorm. In addition, it offers you the opportunity to visit the local villages and tourist attractions. If you decide to come by car, the N-332 road and the AP-7 motorway are the two options to access Benidorm. The toll exits on the AP-7 are the Poniente-Terra Mítica (65 A) or the Levante (65). And to make it even easier, most of our apartments in Benidorm have parking. 🙂