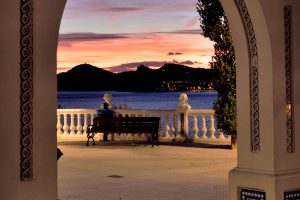 Any time of year is a good time to escape for a few days to a place that offers comfort, entertainment and good temperatures. Or what is the same: any time of year is a good time to escape for a few days to Benidorm. And the December Spanish holiday is perfect for it, a few days that let us take a break and gather strength to get ready for Christmas. If Benidorm is not a destination on your list, we would like to try to convince you otherwise. If, on the other hand, Benidorm is at the top of your list, we hope to add to your excitement with a few suggestions.
With an average temperature of 12.5 degrees, your days in Benidorm will be enjoyable and you will feel like going out to make the most of the day, take long walks along its beaches or sit on one of the many terraces. In December, the influx of visitors to the town drops slightly, which offers you more affordable prices and a more relaxing atmosphere. As far as plans to do, in Benidorm the possibilities are never ending.
So here we go, what to do in Benidorm during the December bank holiday?
Visit Terra Natura
Because of its great variety of species, its beautiful environment, both its landscape and its architecture, and its variety of shows and activities, visiting the Terra Natura Zoo is an equally good option with or without children. The opening hours in December are from 10:30 am to 5:00 pm, enough time to visit the park with tranquility and perfect to be able to take advantage of the afternoon. If this idea interests you, we have something to tell you: they have just launched a promotion on their tickets that you may be interested in.
Check all the information here.
Go on an excursion to the Castell de Guadalest
The Castell de Guadalest, in addition to having been declared a historical and artistic site in 1974 and an Asset of Cultural Interest, is also considered one of the most beautiful villages in Spain. And it's not surprising, because its scenic beauty and natural wonders are worthy of admiration. This is why we recommend you take advantage of one of your days to escape to this beautiful place. If you do not have a car, you can reserve a place on organized excursions or go by bus with number 016 route from Benidorm to Guadalest.
Check information of interest here.
Nightlife in Benidorm
One of the main highlights of Benidorm is its nightlife. Benidorm offers fun and nightlife for all ages. So, you cannot leave without having tried it at least one night.
Now, where should you go in Benidorm? Along the promenade of the Levante beach there are plenty of free nightclubs (KU, Richard New Look, Penelope Beach, Guinness, Moon Beach…), frequented by the young and more mature. If you prefer an evening in the pub, then we recommend you to visit "El Callejón", favorite place of the Benidorm people. It is a steep and narrow street that goes up to the church where there are many pubs and where hundreds of people gather on Saturdays nights. Last but not least, the English square, full of bars, pubs and clubs (Red Dog, Hippodrome, Joker's, Lennons or Red Lion.) Where you can find most of the British holiday makers enjoying the nightlife.
Contemplate the sunset from the Mediterranean Balcony
The Mirador del Castillo (or Balcony of the Mediterranean) of Benidorm is beautiful during the day and night. But its views are especially enjoyable if you visit it at sunset. Located on a large rock that separates both beaches, this viewpoint offers a magnificent view of the two main areas of the city, Levante and Poniente. We suggest you come here when the sun goes down, contemplate the views while the sun goes down and then take in an evening drink in one of the varios bars on little streets that run from the balcony.