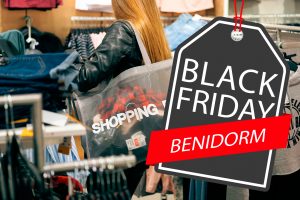 In just two weeks, it's time to celebrate! One of the most anticipated days of the year for shopping lovers, sales and the very best of bargains. If you're not sure what Black Friday is. It is the name that Americans and Canadians call the fourth Friday of November, a date that they mark on the calendar as the day that the Christmas shopping season starts. So on the 24th November small and large businesses from many countries will join the event by launching promotions and offers that attract all types of public.
If you are lucky enough to be on holiday in Benidorm, on black Friday, let us help you to find the best places to shop in Benidorm.
La Marina Shopping Center Finestrat
Unfortunately, we still have to wait a few months for the new Benidorm shopping center which is currently under construction. Meanwhile the closest shopping center, where tourists and locals shop is the Marina Finestrat.
At this shopping center all the family can enjoy a full day, thanks to its wide range of fashion, leisure and restaurants. If you visit we can highly recommend a visit to the third floor, where you will find cinemas, bowling, amusements and plenty of restaurants.
How to get to the La Marina Shopping Center from Benidorm?
By car. Take the N-332 road, Alicante direction. After 5 – 6 minutes on the main road you will see the Shopping Center is clearly sign posted.
By bus. The 3 bus line routes that connect the shopping center with different points of the city are 02 (Shopping Center / Rincón de Loix), 03 (Terra Mítica / Bus station) and 15 (Finestrat / Cala de Finestrat).
By train. Only 100 meters from the Shopping Center you will find the C.C. LA MARINA – FINESTRAT Train stop. You can catch the train at the Benidorm Station.
Shopping route through the center of Benidorm
Instead of visiting the shopping center maybe you would prefer to enjoy a walk through the center of Benidorm whilst you do your shopping, Below you can find a map with our recommended shopping route. But first, we would like to give you some more important information. The Ruzafa, Alameda and Paseo de la Carretera streets are more the local businesses and the other hand, on the Martínez Alejo, Gambo and the beginning of Avenida Mediterráneo streets you will find the best known national and international brands.