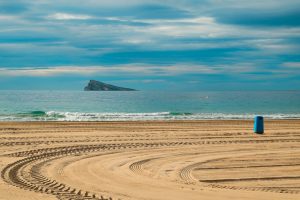 February will soon be here, it's the shortest month of the year but that doesn't make it any less intense. And in Benidorm, the land of sun, fun and a thousand plans to do, it couldn't be any other way. February is a month for showing love and romance, fancy dress, dance and plenty of laughter, with cool evenings but still as pleasant. What's Benidorm got to offer for your February holiday? Here are two special dates and two plans to keep in mind.
10th February; Carnival parade and nightlife in Benidorm
10th February is an important day for the locals in Benidorm. Even though there is not a great carnival tradition in this town, the truth is that people love to make a good fancy dress costume, parade the streets and go out at night and have fun with their friends. As you already know, if there's something that Benidorm always has to offer, its great nightlife. The parade can be seen from different parts of the city, with the following route: C / Tomás Ortuño, C / Venus, Avd.Ruzafa, C / Herrerías and ending in the plaza of SS.MM Reyes de España (Benidorm Town Hall) Not forgetting the little ones, there is plenty of fun in the mornings. Are you coming to Benidorm for the Carnival?
14th February the night of Valentine's Day ❤️
Valentine's Day a perfect excuse to celebrate your love once more. We really should always celebrate it. Why not take advantage of the date and do something different? Get away from home, visit a new town, by the sea, good weather and plenty of atmosphere, it's a great option. Benidorm is a perfect destination for these dates. Are you coming? We've prepared you a list of plans to do at Valentine's in Benidorm to make your decision even easier.
Take in the sights of Benidorm from La Cala
Benidorm is beautiful from all angles. And we would like you to see it from one of the best spots of the town. The most well known view of Benidorm is from the Levante beach side. However, the view from Poniente is equally impressive. We recommend that you go up to the 'Mirador de La Cala' (a view point). The best way to get there is by car but you can also walk up the steep hill if you are up for it, the walk will have its reward you will be able to contemplate the amazing views of the sea and the town.
A walk through the l'Aigüera Park in Benidorm 🌲
We would like to add another plan to your Benidorm holiday, a pleasant walk through one of the greener areas of Benidorm, Parque de l'Aigüera (l'Aigüera Park) Its central location allows you to connect easily with any point of the town.